Planting Roots in Research
For Student Lolita Muñoz, Undergraduate Research Provides Valuable Experience
Lolita Muñoz (center), UGA Tifton Campus senior biological science major, tours the greenhouse with her research mentors, Richard Davis (left) and Karen Harris-Shultz, of the U.S. Department of Agriculture. Photo by Corey Nolen
---
Lolita Muñoz's scientific exploits involve breeding root-knot nematode resistance into grain sorghum alongside U.S. Department of Agriculture scientists.
Muñoz is a senior biological science major on the University of Georgia Tifton Campus, and this experiential learning, coupled with her fascination with scientific research, fuels her pursuit of a career in genetics.

"The process of not knowing and trying to find out, it's a mystery. That's really what I like about it," Muñoz said.

Muñoz works under Karen Harris-Shultz, a research geneticist at the USDA. Her research, in collaboration with USDA Agricultural Research Service nematologist Richard Davis, centers on sorghum and root-knot nematodes, microscopic worms that feed on the roots of many crops.

Root-knot nematodes are distributed worldwide and parasitize thousands of plant species, causing economic losses in high-value Georgia crops such as cotton, tomatoes, bell peppers, watermelon and soybeans. The cultivars of many of these crops have limited genetic resistance, and management treatments are important for root-knot nematode control.

Sorghum is a popular crop in the U.S. It is used in syrup production, as livestock feed and has recently come into the consumer food market as an ingredient in more than 350 U.S. product lines. Davis identified that a sweet sorghum cultivar, 'Honey Drip,' has root-knot nematode resistance. Resistant sorghum can be used in crop rotation with susceptible crops to drive down the population of root-knot nematodes in the soil. However, 'Honey Drip' is a tall, sweet sorghum, and most of the sorghum grown in the U.S. is grain sorghum.

In 'Honey Drip,' the scientists identified that a single, dominant gene on sorghum chromosome 3 prevents nematode reproduction. With this knowledge, they can move this gene from 'Honey Drip' to grain sorghum lines by crossing and selecting progeny that contain the chromosome 3 region of interest.

Muñoz, a student worker in Harris-Shultz's lab, helped move the gene from 'Honey Drip' into susceptible types of grain sorghum. She helped to make crosses and backcrosses, and to genotype progeny to see whether they contain the region of interest.

In April, Muñoz presented her findings to fellow students, scientists and judges at the Association of Southeastern Biologists conference in Concord, North Carolina, thanks to an endowment established by UGA veteran scientist Wayne Hanna and his wife, Barbara, following his retirement from the USDA Agricultural Research Service office in Tifton, Georgia. "Even though I was nervous, I was really excited and eager to present what I'd done," Muñoz said. "The research made me think, 'I really like this. … This is what I want to pursue as a career.'"

"We are pleased that she was able to use it (the endowment) to help her with her experiences," Hanna said. "We want recipients of this endowment to have an enriching experience."

Muñoz's mentors on the UGA Tifton Campus believe her experience will serve her well as she pursues a career in research.

"Having students present their research is very important as it organizes their thoughts and leads to new conclusions. It also prepares them to give a two-minute elevator speech about their research," Harris-Shultz said.

Being able to talk about research and discovering new ideas help to broaden a researcher's point of view.

"It's extremely valuable, for a student and for a scientist, to go out and interact with other scientists, interact with programs that are different than yours because a lot of times, in our own program, we have a narrow vision. But when we go out and talk to other people, our vision is broadened," Hanna said. "We see other opportunities that we never dreamed of. You see how other people do things that you never dreamed."

Story by: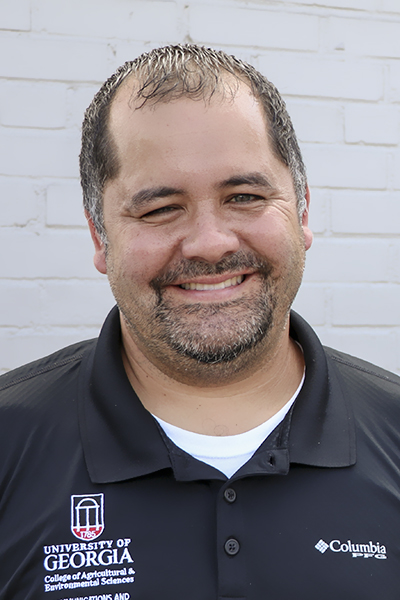 Office of Communications and Creative Services (OCCS)