Monitoring project team members Nancy Mitchell (left to right), Melinda Wilkins and Gina Vernola document an American toad on the Big Creek Greenway in Forsyth County, Georgia.
Georgia Master Naturalist Program Trains Citizens to be Environmental Educators
In Forsyth County, Georgia, a group of citizen scientists wearing matching collared shirts heads to the woods at dusk. They listen for frog calls and chart the sounds they can identify. They check polyvinyl chloride, or PVC, pipe shelters for the specimens, record their findings, release the frogs and return home.
The McFarland McKermits monitor frogs to determine the quality of the nearby stream. 

This group of volunteers is made up of graduates from the Georgia Master Naturalist Program.

University of Georgia Cooperative Extension and the UGA Warnell School of Forestry and Natural Resources have offered the program across the state since 2002.

The mission of the program is to train citizens about the environment using science-based information, said Michael Mengak, UGA Extension wildlife specialist and state coordinator of the program.

Georgia ponds, rivers, swamps, wetlands, mountains and forests are the classrooms used to teach the Georgia Master Naturalist classes that explore habitats and ecosystems as well as the impacts humans have on these environments.

Extension agents host the program, which includes 48 hours of instruction through lectures and hands-on field classes.

"What makes the Master Naturalist Program especially unique is that the classes are organized by the local site coordinators – usually a county agent – and they can tailor the classes to the individual needs of their area or county," Mengak said.

All workshops must cover ecology, wildlife management, agriculture management and identification of trees, plants, birds, mammals, frogs, turtles, salamanders and snakes, he said.

But even these topics are uniquely different across Georgia.

"In Effingham County, (Georgia,) they studied plant identification and went to Fort Stewart (Army installation near Hinesville, Georgia) to learn how fire affects endangered species like the red-cockaded woodpecker and gopher tortoise," Mengak said. "In Union County in north Georgia, they cover topics related to the mountains, black bears and national forest management."

Human impact is also covered, and in Athens, Georgia, UGA Extension agent Amanda Tedrow takes her participants to the local landfill, a commercial composting facility, recycling facility, drinking water treatment plant and the sewer water treatment plant.

In 2008, nature centers, like the Elachee Nature Science Center in Gainesville, Georgia, the Phinizy Center for Water Sciences in Augusta, Georgia, and the Chattahoochee Nature Center in Roswell, Georgia, began to offer the program too.

"Our hope is that [Georgia Master Naturalist Program graduates] will share this information with others by volunteering at the Extension office or teaching at a nature center," Mengak said.

That's the case with the group back in Forsyth County. In 2010, the first graduating class of Forsyth County Master Naturalists installed 20 bluebird houses – quickly occupied by nesting pairs – along the Big Creek Greenway. Since then, the citizen-scientist volunteers have placed educational native plant and wildlife signs along the trails.

"Not every one of our Master Naturalists became volunteers, but we do have about 25 active members," said Extension agent Heather Kolich of her frog-counting group. "They are monitoring stream quality, which is very important because we are so close to Lake Lanier."

The Georgia program has attracted 1,322 participants over the past 10 years. "It's not a large number of people – 124 people per year – but we aim to keep the classes at 20 or fewer so it's manageable for field trips," Mengak said.

Six Master Naturalist workshops were scheduled across Georgia this year, and new programs are scheduled for some of the same locations in 2017.
Story by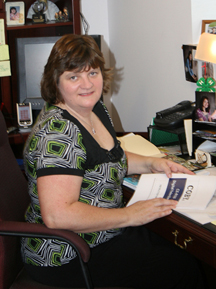 Office of Communications and Creative Services (OCCS)