Kris Braman
Department Head
CAES Department of Entomology

Natural Selection
Twenty-seven years after joining the faculty as a fledgling researcher, University of Georgia Professor Kris Braman became the head of the university's Department of Entomology in June.
Braman sees the entomology program, part of the College of Agricultural and Environmental Sciences, continuing to address current and emerging priorities in the discipline to meet the needs of agricultural, urban and industry clientele.
After earning degrees from the State University of New York and the University of Kentucky, Braman joined the CAES faculty in 1989, working on the college's campus in Griffin, Georgia. Since then she has conducted research on pests and beneficial insects of turfgrasses and ornamentals in urban settings.

Her research ensures that turfgrasses stay lush and aren't destroyed by insect pests like chinch bugs, two-lined spittlebugs, mole crickets, grubs and a variety of caterpillars. By studying the biology and behavior pests and their predators, Braman has developed control methods using natural enemies, pest-resistant plant varieties, alternative control technologies and insect scouting.

She will continue her research, focusing on conservation issues, as it keeps her "cognizant of issues faculty face," she said. "My research projects have contributed to the development of decision-making guidelines that provide support to the green industry. I am proud of the students and staff who made these projects possible, and I enjoy celebrating their successful careers."

In 2011, Braman was named director of the university's Georgia Center for Urban Agriculture, located at UGA Griffin. There, she worked closely with Georgia's green industry – which includes landscaping, lawn maintenance, horticulture and the like – and UGA Cooperative Extension agents in urban areas. She also teaches general entomology and biological control classes for UGA undergraduate and graduate students.

Braman has served as president of both the Georgia Entomological Society and the Southeastern Branch of the Entomological Society of America. Her numerous honors include being presented the branch's Distinguished Achievement Award in Horticultural Entomology, the Georgia Green Industry Association's Environmental Friend of the Industry Award and being named a "Distinguished Alumni" of the University of Kentucky's Department of Entomology.
Story by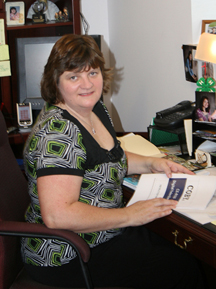 Office of Communications and Creative Services (OCCS)